Product Description
In-Stock. Same-Day Shipping & Pickup*
Due to the large and heavy weight of the product's packaging, the S/H fee will be charged separately after the order is placed.
Please place an order with the shipping option "Pickup at the store" before checkout.
QS-V20
The QS-V20 is an extended 4DoF motion cockpit, designed for pro racing car simulation, dedicated to both drivers training and sim racing enthusiasts. The motion system based on world's fastest linear actuator's technology provides incredible levels of vehicle feedback to the driver. This motion platform is suitable for Rally, GT and F1 simulations, also the small footprint and lightweight design allow to fit the machine to every racing room.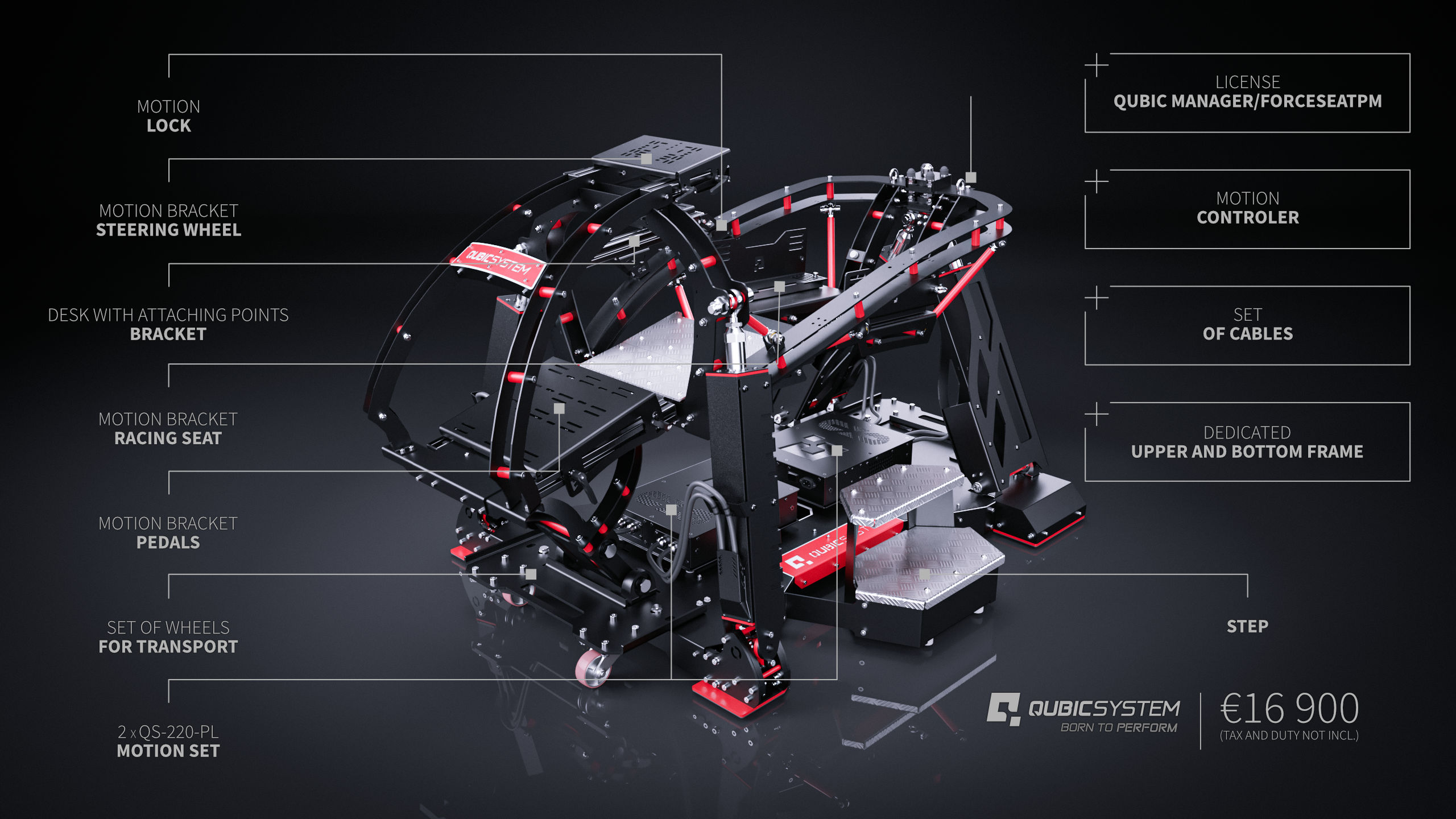 USE-CASE EXAMPLE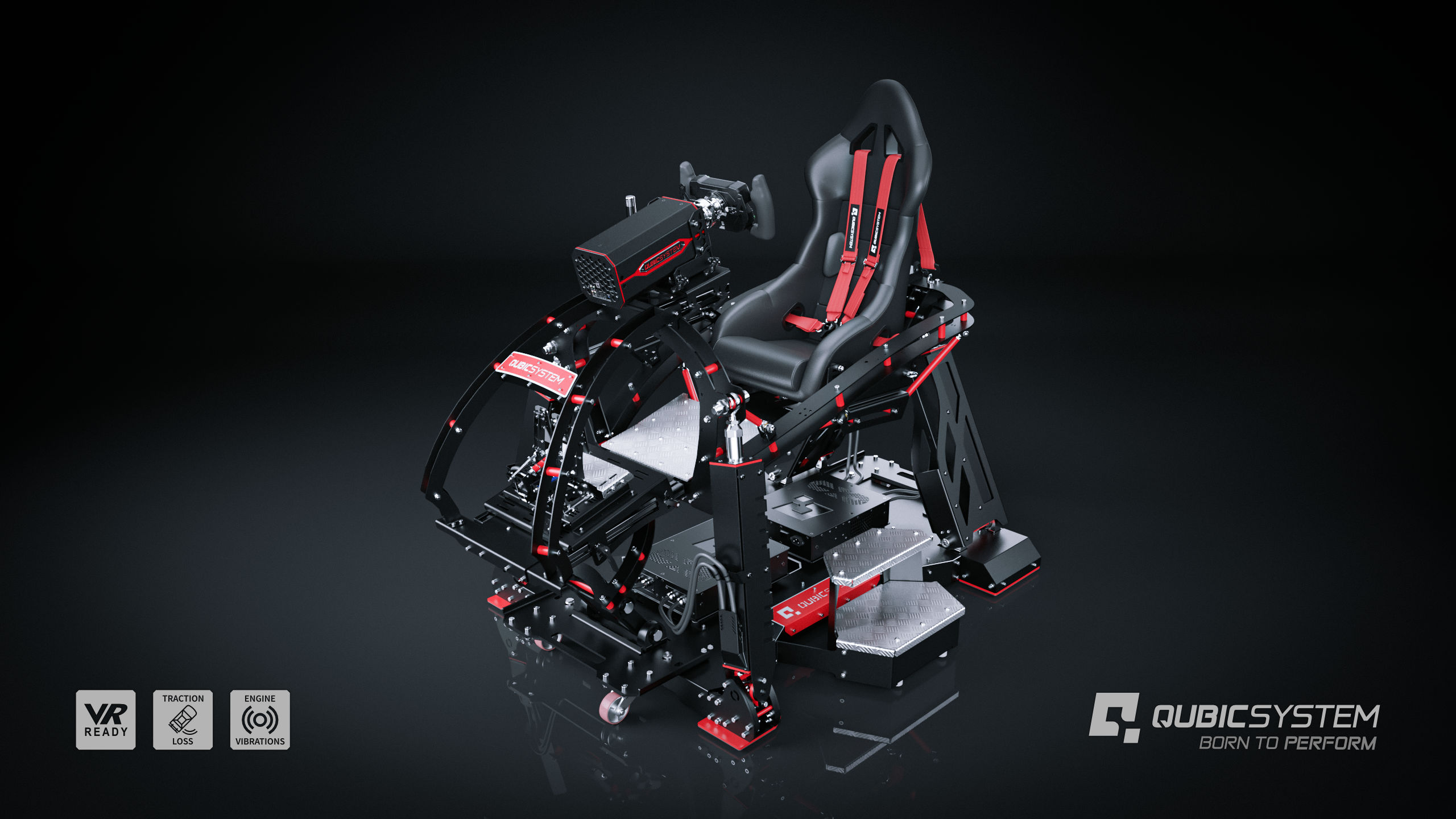 Based on world's fastest Qubic System linear actuators
Compact and lightweight design
Suitable for Rally, GT and F1 simulations
Supported by dedicated software QubicManager: motion adjustment, motion post-processing, extensive diagnostic or easy and fast use of predefined profiles
Traction loss
Also, available as expansion set from 3DOF to 4DOF of QS-220-PL actuators
Adjustable seat, pedals and direct drive mounting
FIA approved seats and seat belts compatibility
Proudly made in EU: Engineered, Designed and Manufactured in Poland

What's Included

The QS-V20 is transported in a specially adapted transport box.

Box with QS-V20 included:

QS-V20 Motion Platform
QubicManager software download
USB and power cables
Nuts and Bolts required for assembly
Product Manual

Technical Specification

Architecture: 4DOF with TRACTION LOSS

Maximum velocity: 900 mm/s

Maximum acceleration: 0.88G

Vibrations frequency range: 0-100Hz

Maximum control frequency: 1000 Hz

Latency: <8ms

QS-V20 SYSTEM PERFORMANCE

Heave: – 50 mm, 50 mm
Roll: – 8.5°, 8.5°
Pitch: – 5.5°, 5.5°
Yaw: – 6.1°, 6.1°

QS-V20 DIMENSIONS

Total length: 1715 mm | 67.52 in
Total width: 1097 mm | 43.19 in
Total height: 1042 mm | 41.02 in

QS-V20 PAYLOAD

Max user weight: 150 kg | 330,7 lb

CONNECTION: USB


Software

Even most advanced hardware is nothing without good software. QubicManager powered by Motion Systems company is professional and specialized software for the platform and is click and play compatible with all major racing and flight titles on PC and constantly updated to support new applications as they are released. Gives user possibilities of motion adjustment, motion post-processing, extensive diagnostic or easy and fast use of predefined profiles.

Over 80 integrated and supported racing and flight games. 
While every reasonable effort is made to ensure the accuracy of this information, we apologize for any errors or omissions contained on these pages.
Please verify any information with Simulation 1 Systems.