Product Description
In-Stock.
Due to the large size, weight, there may be a HIGH S/H fee involved.
If you are located near the Greater Toronto Area, we highly recommend picking up the product at our store! 
Trak Racer TR80-LITE Overview with 5-Year Warranty!
Trak Racer is the Official Simulator Supplier of Alpine F1 Team and Airbus Aircrafts.
Key Benefits of TR80-LITE: 
Basic Pre-Drilled Pedal Mount
Side-Mounted Wheel Uprights with 80 x 40mm Heavy Duty Brackets
Thicker and Stronger Aluminium Profile Walls
Important. Due to the height of the wheel mount uprights, front-facing mounts including the TR-One Wheel Mount System are NOT compatible with the TR80-LITE
The TR80-LITE has been designed with experience gained since Trak Racer started in 2008. The base structure is an 80 × 40mm high-end aluminium T-Slot extruded profile, anodized in black. Your choice of wheel mount will be supported by an 80 × 40mm high-end aluminium T-Slot extruded profile, also anodized in black.
Heavy-duty anodized black 90-degree brackets connect the frame and laser cut carbon steel plates allow you to attach your peripherals. The TR80-LITE is Direct Drive & Belt Drive Wheel-Ready, Pre-drilled for all popular steering wheels, pedals and shifters on the market, comes with a Stiffened Wheel Mount for No-Flex Racing. The Trak Racer accessory range is also constantly evolving to offer over 30 add-on options including speaker mounts, monitor stands, bass shaker mounts, keyboard mounts and more. Designed and Engineered in Australia.
What's Included
Wheel Mount – TR One Universal Wheel Deck (SKU: TR80-NWMA-WM4)
Pre-Drilled Pedal Plate
BONUS Rubber Feet to protect floors
Set of 10 Cable Ties
Red Coloured Strips
80mm x 40mm Black Anodized Aluminium Chassis
80mm x 40mm Black Anodized Aluminium Wheel Supports
80mm x 40mm Black Anodized Aluminium Shifter Support
All Mounting Screws, Brackets and Fixtures included
Assembly Tool Kit Included
Optional – Select from Drop Down Menu
Seat Mounting Brackets and Seat Slider Rails
Gear Shift Mount
Trak Racer Premium Race Seat
Frame/Chassis Features
Constructed from high quality extruded aluminium
580mm wide and 1,200mm long for firm stance when racing
Low ground clearance with hardwood rubber floor protectors
Finished in black anodized high-quality aluminium
Adjustable Pedal Mount Features
Unique Bracket Design allows you to position the pedal low or in a high position and also slide for fine-tuning
Thick, no-flex Carbon Steel Construction
Pre-drilled mounting points for all major brand pedals
Optional Bucket or Recline Seat
Select from the range of high-quality Trak Racer seats
Premium race-ready high-grade seat with hardback
Adjustable driving position seat
Ergonomically designed for extended periods of use
High-density foam construction
Weight Restrictions: Up to 160kg (352 lbs)
Suggested Waist Size: GT-Style (up to 38″), Rally-Style (up to 44″) and Recline seats (up to 50″)
Contact Trak Racer for other available seat sizes
Specifications:
Includes all aluminium profiles and mounting gear
The main Chassis is a 6-Slot 80 x 40mm profile
Steering wheel uprights are 6-Slot 80 x 40mm profiles
Compatible Wheel Bases:
• Thrustmaster T500, T300, T150, TC-PS, TS-XW, TX, 248, T-GT, T80, TMX and T-GT II
• Logitech G25, G27, G29, G920, G923
• Fanatec Elite, Clubsport, Podium DD1/DD2 and CSL DD
• AccuForce V1/V2
• SIMAGIC M10
Also, Flight/Heavy Equipment
• Logitech Flight Yoke System (by clamp)
• Logitech Flight Switch/Multi/Instrument Panels
• Logitech Heavy Equipment
Compatible Pedals
• Fanatec CSL Elite Pedals, ClubSport V1/V2/V3 (including Inverted Pedals)
• Thrustmaster T-LCM, T3PA, GT Ed, T3PGT, T3PA PRO add-on and T500, T150 pedals
• Trak Racer Loadcell Pro Pedals (Coming Soon)
• Heusinkveld Ultimate/Ultimate+, Sprint and Pro
• Logitech G29, G920, G923
• Meca Cup1-2, Meca Cup1-3, Clutch and Base Plate
• VRS DirectForce Pro Pedals
• HPP PRX 3P, JBV 2/3 Pedal System
• Simagic P2000-S100 Pedal Set
• BJ Sim Racing Steel Series, 1000psi Hydraulic
• DC Sim Racing DC3
• Sim Coaches P1-3
• Simtrecs ProPedal GT
• Asetek Hydraulic
• Velazquez Engineering PRO+ Hydraulic
• Simforge Mark-1
• 3DRAP Ngasa
• Protosimtech PT2
• OBP Pro Race V2 Sim Pedal System
• Simworx Pro Series
• WAVE IMPETUS
• Quaife Throttle Pedal and Brake
• Cube Controls Hydraulic
Also, Flight/Heavy Equipment
• Thrustmaster TPR: THRUSTMASTER PENDULAR RUDDER
• Thrustmaster T.Flight Rudder Pedals
• Logitech Flight Rudder Pedals
• Logitech Heavy Equipment
Contact us if your product is not listed
Compatible Shifters
• Fanatec ClubSport Shifter, SQ
• Thrustmaster TH8A, RSTSS, TSS+
• Prosim PSL Sequential Shifter
• Trak Racer Sequential Shifter Pro (Coming Soon)
• Heusinkveld SQ Shifter
• Logitech G Shifter
• DSD SQ Shifter
• Jinx Shifter – additional mount required
• Simworx Pro Series – additional mount required
• VNM Simulation Sequential Shifter
• Quaife PSL Sequential V2, Sequential and H Pattern – additional mount required
• Aiologs SQ Shifter
• BJ Sim Racing Shifter 3.0
• Frex H Pattern
Contact us if your Product is not listed – Handbrake mounts are also available
About Trak Racer
Since 2008 Trak Racer has been pioneering the Sim Racing industry with great value and well-designed products. In recent years, Extruded aluminium has come into the sim racing space for benefits such as its strength, expandability and minimal setup costs for the manufacturer when compared to other simulators on the market like the Trak Racer RS6 and TR8.
Disadvantages of this type of simulator are additional setup time and more industrial aesthetics.
Extruded aluminium is a fixed cross-sectional length of aluminium, which has portions "removed" along the length, known as extrusions. This allows for the connection of multiple separate lengths of extruded aluminium which can be used to build simple to very complex structures using a nut that slides into the extrusion and securing with a screw. 80/20 is a registered brand of extruded aluminium (among many others) which is often interchanged with the generic term "extruded aluminium". Because of its versatility and expandability, extruded aluminium is often used for creating racing simulators. The most common type of extrusion used for sim rigs is "t-slot extruded aluminium". It features a t-shaped extrusion (most commonly on all sides).
Your Competitive Edge Against the World's Elite
Depending on your game you'll have an advantage against the worlds most elite drivers. Invest in the champions rig as trusted by thousands and gain a winning edge against the competition.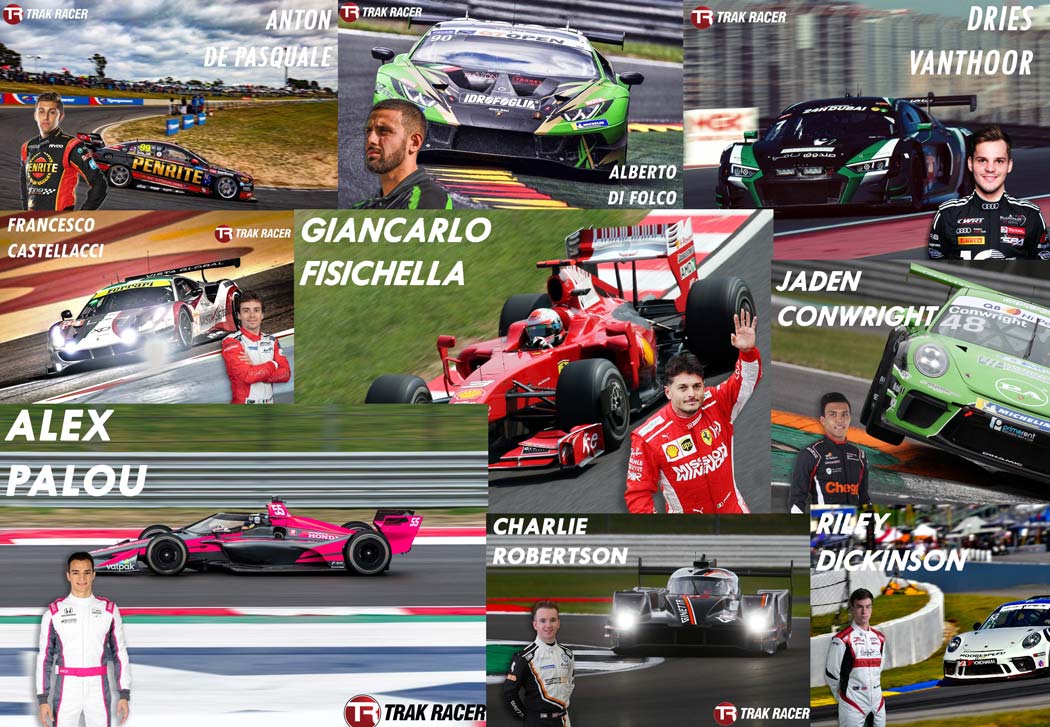 While every reasonable effort is made to ensure the accuracy of this information, we apologize for any errors or omissions contained on these pages.
Please verify any information with Simulation 1 Systems.