Cube Controls CSX-3 Wheel
Save
$

300.00
Roll over image to zoom in
Click to open expanded view
$2,249.00 (-13%)
In-Stock. Same-Day Shipping & Pickup*
In-Stock. Same-Day Shipping & Pickup*
This is the Black & 6 Paddles Shifter Model.
The most beloved steering wheel is back with its third iteraction.
CSX-3 is designed to push the boundaries of the premium experience further and fulfill the expectations of a real racer.
Featuring Q-conn connection, customizable RGB LEDs buttons, full-colors touch-screen LCD display, and completely renovated electronics. 100% pure carbon fiber front plate, CNC aluminum main body, knobs and joystick. Optional extra paddle set.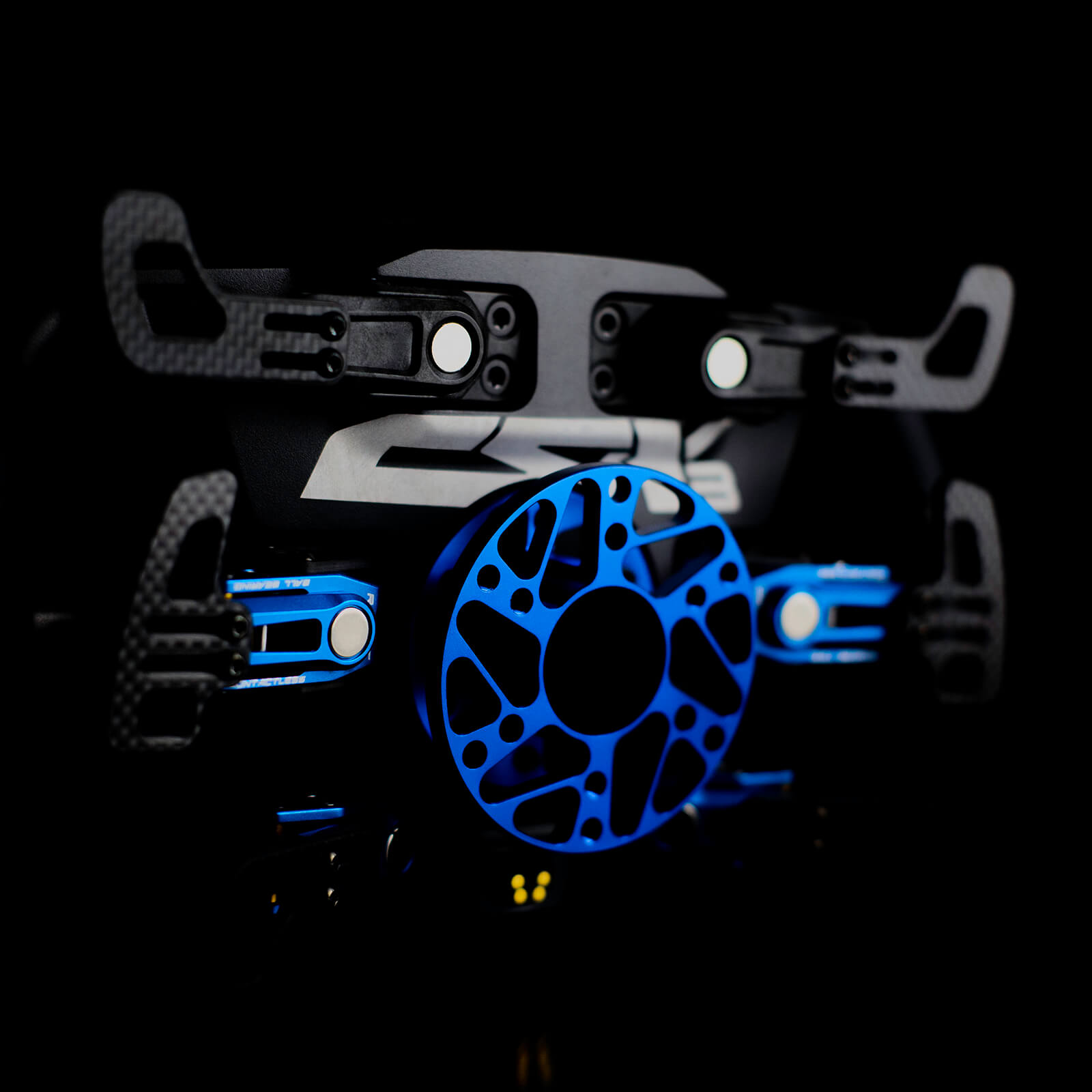 Empowering your racing skills
CSX-3 is the highly recommended choice for a top-tier racing performance. It incorporates all the benefits of the best F-PRO features combined with the game-changer options of a steering wheel with display, now touch-screen for faster interactions. Thanks to the compatibility with SimHub, the customization of your dashboard layouts and RGB LEDs guarantees a whole new level of possibilities. The optional paddle set in CFRP (carbon fiber reinforced polymer), will secure total control over your race.
Formula CSX-3
4″ 800×480 LCD with touch screen

√

Native Simhub support

√

RGB LEDs
17
All buttons, dials and LED bars compatible with Simhub via a dedicated plugin

√

Optional set of extra CORE paddles

√

Momentary buttons

12

On/off toggle switches with status led

2

Grip-to-Grip wheel length
28,2 cm
Grip max diameter
45 mm
Proprietary custom-made tactile button assembly

√

Improved button guards with better ergonomics and feeling

√

Straight back charging connector

√

Backlit buttons

√

Clutches

√

Front rotary encoders

4

Thumb rotary encoders
2
Thumb rotary encoders integrated into the grips
2
Launch control clutch system

√

Multi-directional joystick with integrated encoder

2

On/off pushbutton on the backside of the wheel

√

In-software clutch and shifters configuration

√

Pure carbon fiber front plate

√

Wheel hub compatible with standard formula-style quick-release hubs (3 bolts, 1-inch and 70mm PCD)

√

Weight

1143 gr

VR friendly

√

Q-conn magnetic connection cable

√

Customizable RGB LEDs buttons and dials

√

Completely redesigned zero-play short-throw custom-designed magnetic switchless shifter paddles with adjustable stop ends, ball bearing and improved tactile feedback

√

Die-cast aluminum main body

√
Downloads
FAQ
D: How can I calibrate the shifter paddles?
A: CSX-3 allows you to easily calibrate the shifter paddles, adjust the bite-point of the clutches and customize the light of the buttons through its proprietary software. You can find it in the DOWNLOAD section.
D: How can I get the software?
A: In the download section, you can find the latest version of the software. New firmware versions will be periodically released to improve the system stability and bring new options.
D: Is the magnetic connector strong enough?
A: Absolutely. It's specifically designed to ensure a secure connection while keeping safe the product in case too many strong forces will be applied to the connector.
Videos
CSX-3  Launch Trailer 

Boosted Media 🇬🇧 CSX-3 Review

Laurence Dusoswa 🇬🇧 CSX-3 Review

Ron Reviewt 🇩🇪 CSX-3 Review

SimRacing Unlimited 🇩🇪 CSX-3 Review

Saxo Gaming 🇪🇦 CSX-3 Review

 

 

 

Giorgio Zegretti 🇮🇹 CSX-3 Review

Shinji Channel 🇯🇵 CSX-3 Review
While every reasonable effort is made to ensure the accuracy of this information, we apologize for any errors or omissions contained on these pages.
Please verify any information with Simulation 1 Systems.
Additional information
| | |
| --- | --- |
| Weight | 5 kg |
| Dimensions | 40 × 40 × 20 cm |