Roll over image to zoom in
Click to open expanded view
Special Order.
Please allow 4 to 6 weeks of lead time for delivery.
Due to the heavyweight and large dimensions of the product, our Sale Rep will contact you after the order is placed to determine the exact S/H fee to your location.
QS-S25
The QS-S25 is an advanced motion cockpit, designed for the most demanding racers who are looking for professional simulation experience on a high-top level. The motion system based on patent-pending linear actuator's technology allows a much stronger sensation range such as understeer, loss of grip, or overloading during brake clearly blurring the difference between reality and virtual environment. Due to the combination of dedicated accessories and the QubicManager software, the 6DoFmotion platform provides drivers with an extreme experience like in a real race or during the ultimate flights.
The QS-S25 consists of 6 degrees of freedom (surge, sway, heave roll, pitch, and yaw) which determined a position and movement of a car. The combination of the high precision technology of the motion system with QubicManager functionalities guarantees perfectly reflect the situations in the selected game. Further, the impressive dynamics and high performance of the QS-S25 motion system means that the racing simulation has never been at such a top high.
The original machine's design based on modular and reconfigurable sets of actuators can be used in various racing or flight applications. Compact design and small footprint fit the medium size gaming rooms, VR centers, and training facilities for professional drivers.
The platform is compatible with the selected Virtual Reality headsets on the market, which makes QS-S25 open to a new possibility in combining technologies. QubicManager uses advanced mathematic formulas to calculate necessary compensation and applies it to the VR headset at runtime. It eliminates platform motions from the VR tracking system, causing your experiences to be more immersive and authentic.
Check also the wide range of additional mounting brackets and add-ons for building full-motion racing and flight simulators. 
Price does not include tax (VAT), customs duty, and transportation costs. Price refers to the QS-S25 set of motion platform only. Price does not contain peripherals like PC computers, manipulators, game or simulation software, add-ons, accessories, and mounting brackets. The information contained in this web page does not constitute an offer in the meaning of the Civil Code of 23rd April 1964.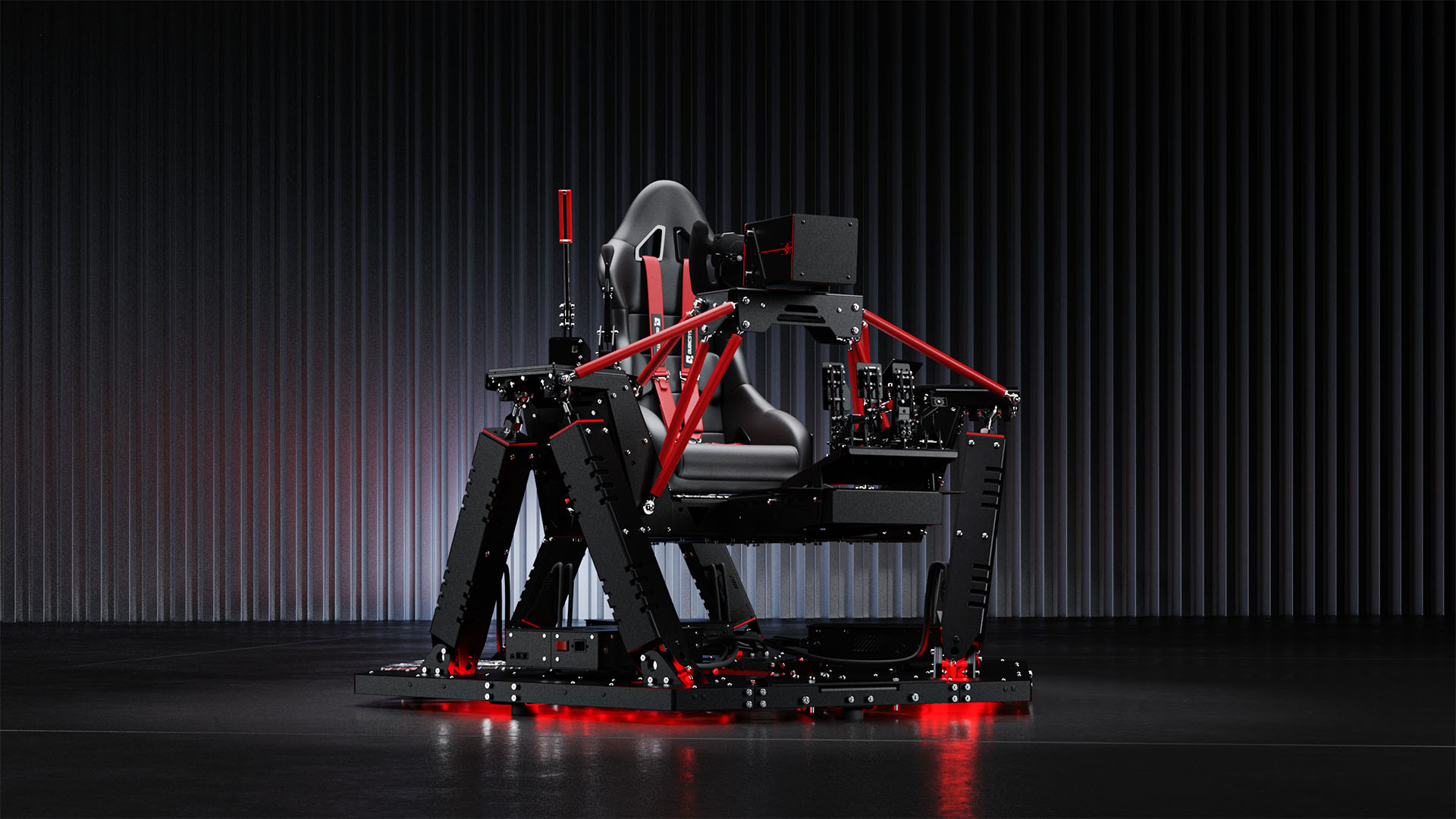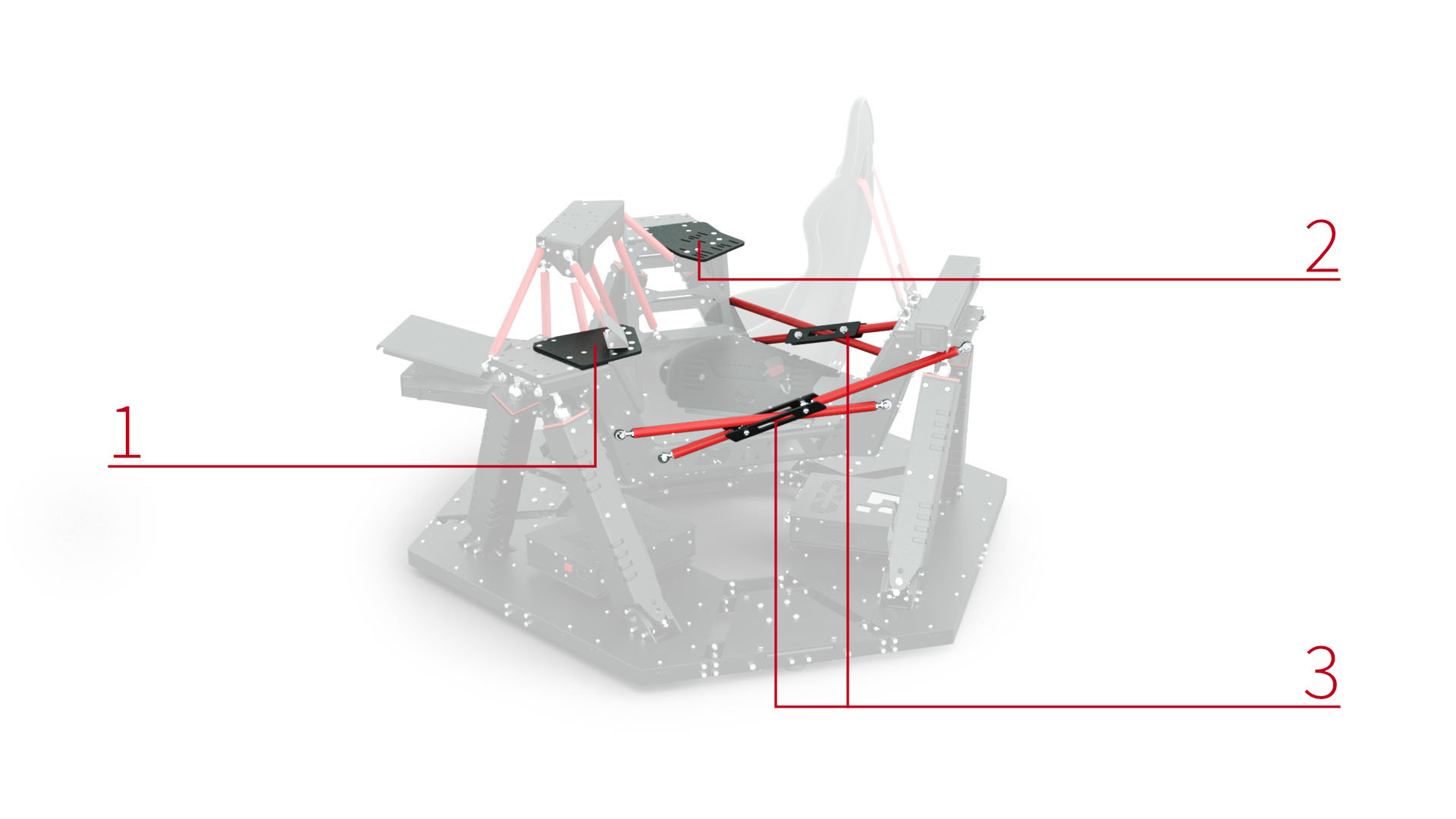 MOUNTING BRACKET:
1 – DESK WITH ATTACHING POINTS – LEFT – $129
2 – DESK WITH ATTACHING POINTS – RIGHT – 

$129
3 – EXTENDED DESK – LEFT – 

$129
4 – EXTENDED DESK – RIGHT – 

$129
5 – SET OF RODS – BOTH SIDE – 

$529
(tax and duty, not incl.)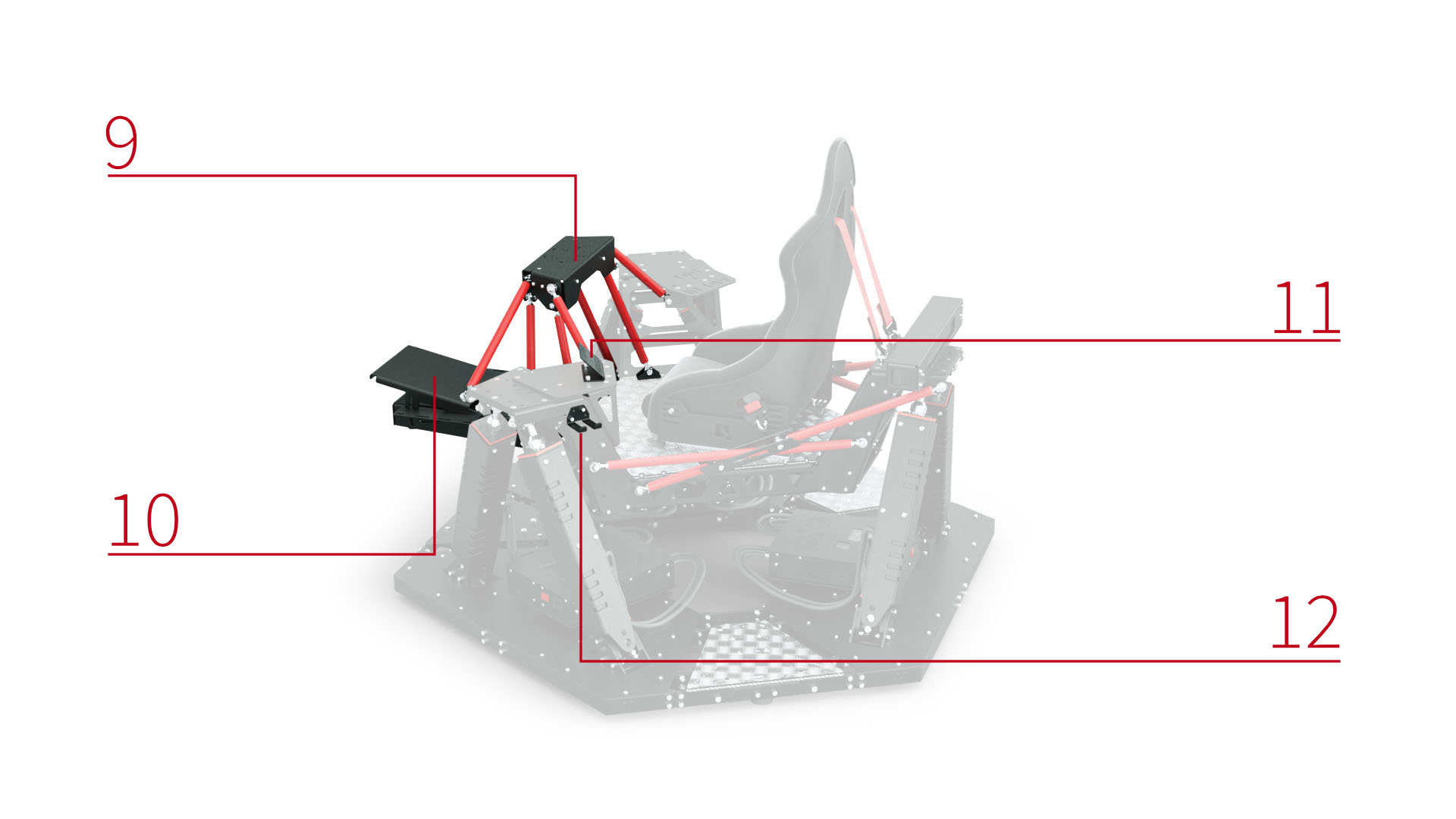 MOUNTING BRACKET:
11 – STEERING WHEEL- 

$649
14 – VR HEADSET HEADPHONES – 

$259
(tax and duty, not incl.)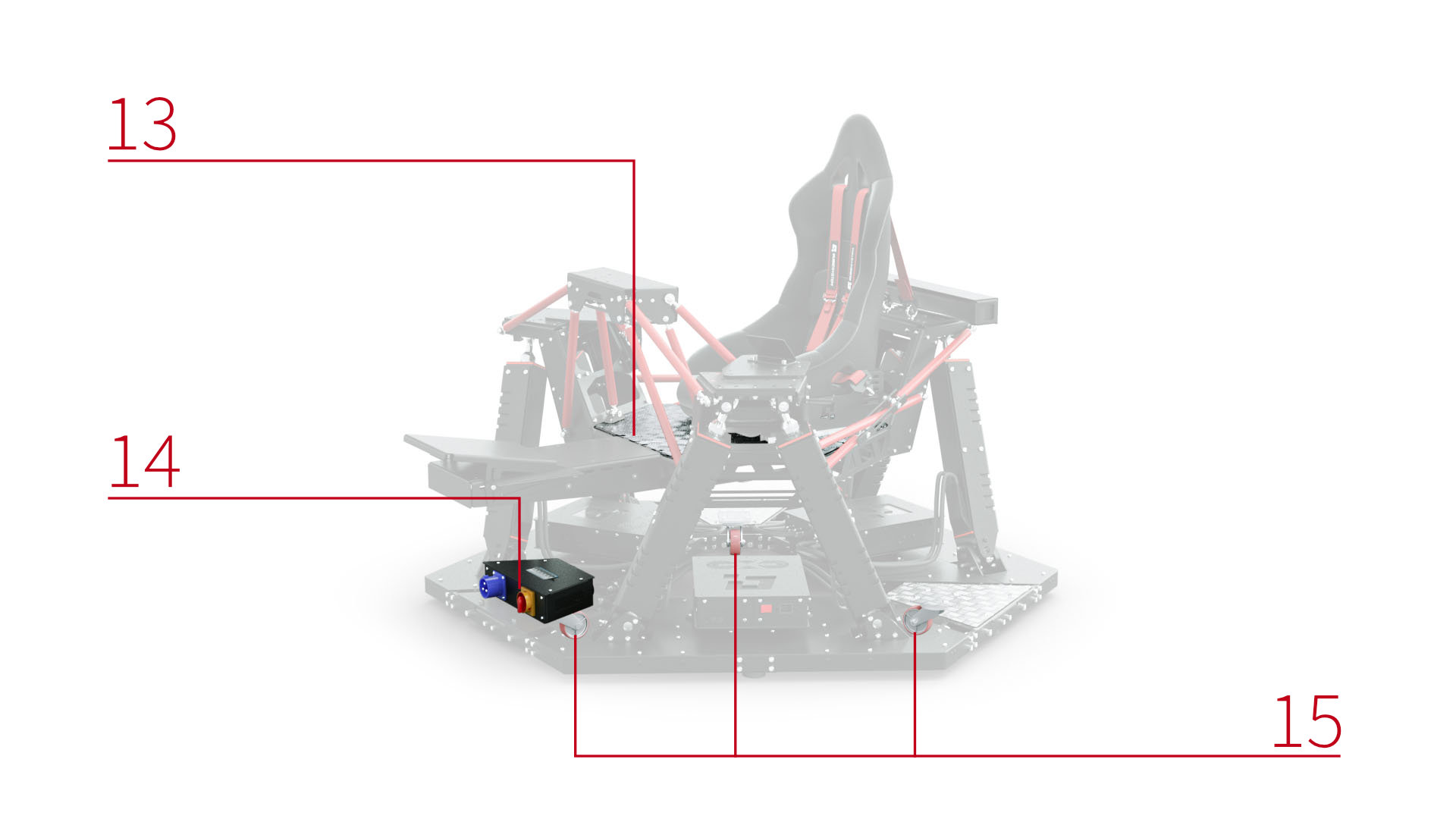 ADD-ONS:
15 – UPPER FRAME FLOOR WITH ATTACHING POINTS – 

$399
16 – POWER CONNECTOR HUB – 

$529
17 –  SET OF WHEELS FOR TRANSPORT – 

$259
(tax and duty, not incl.)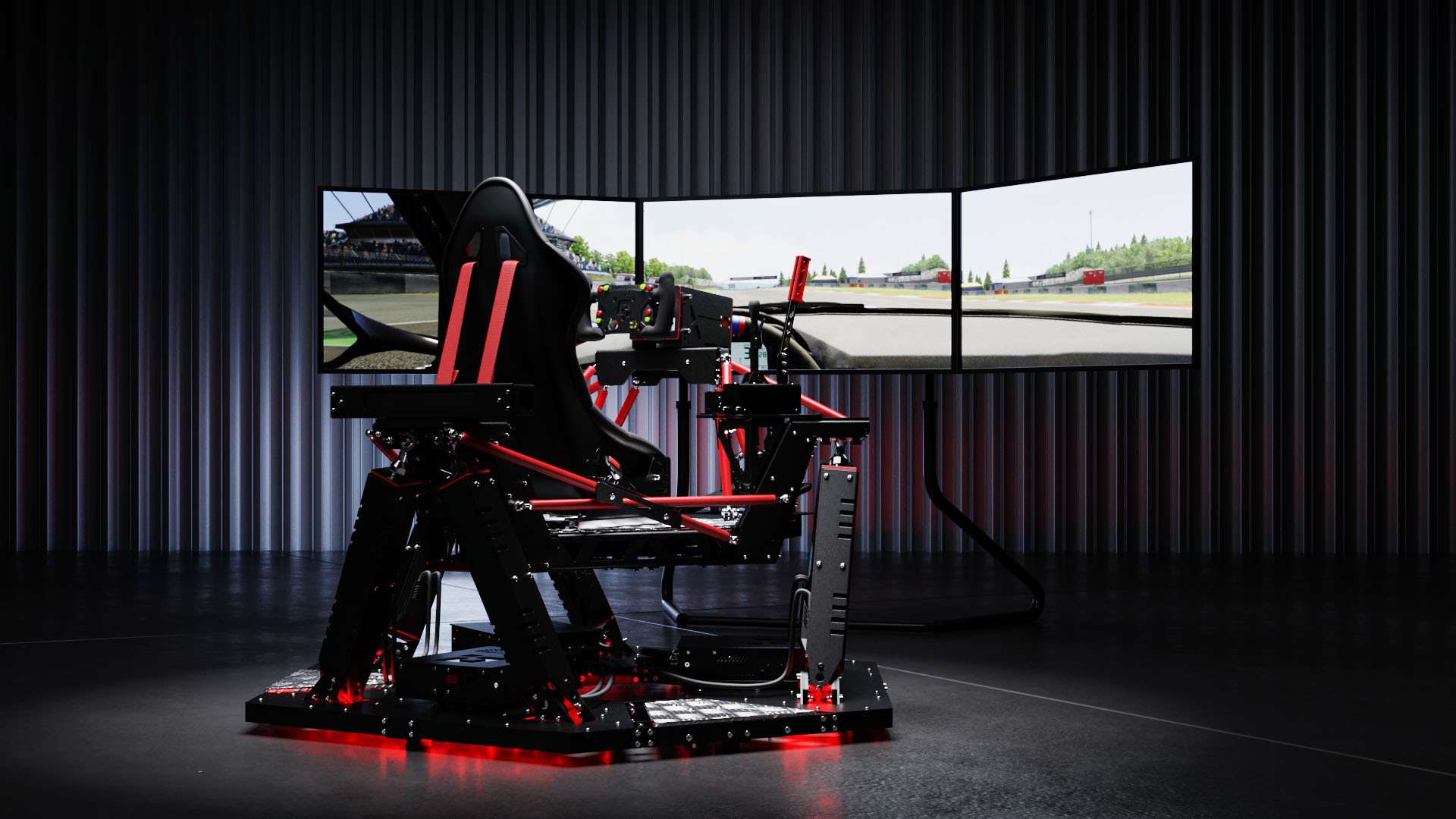 Used by professional race car drivers and pilots around the world
Proudly made in EU: Engineered, Designed and Manufactured in Poland
Top-quality ecosystem for personal and commercial applications
Supported by dedicated software QubicManager
VR HeadWay technology support (VR sickness compensation)
Over 80+ integrated and supported racing and flight games
Compatible with professional simulation applications – Motion SDK (FSMI or FSDI) for software developers
Easy for transport: assembly on-site from the main components
Easy to adapt to 3rd party cockpits
The QS-S25 is transported in a specially adapted transport box.
Box dimensions: 190 cm x 190 cm x 128 cm/ 74,8 in x 74,8 in x 50,4 in
WHAT'S IN THE BOX
QS-S25 Motion Platform
ForceSeatPM Platform Manager software download
USB and power cables
Nuts and Bolts required for assembly
Product Manual
GENERAL SPECIFICATION
Architecture: 6DOF
Payload: 250 kg | 551 lb
Product weight: 350 kg | 772 lb
Total width 1820 mm | 72 in
Total length 1580 mm | 62 in
Min height 960 mm | 38 in
POWER REQUIREMENTS
Power supply requirements: 230V 50-60HZ
Average power (Watts): 199
Average power (VA): 2114,53
Peak Current (A): 8,84
Power supply requirements: 120V 50-60HZ
Average power (Watts): 238
Average power (VA): 2160,31
Peak Current (A): 17,45
While every reasonable effort is made to ensure the accuracy of this information, we apologize for any errors or omissions contained on these pages.
Please verify any information with Simulation 1 Systems.