Qubic System QS-220-PL 3DOF
Roll over image to zoom in
Click to open expanded view
$12,399.00
This purpose machined adaptor has been designed to fit to the motor shaft of the SimSteering system allowing direct fitment to the majority of motorsport steering wheels for Rally, Race, Formula, Kart etc and/or wheel spacers and quick releases with standard motor sport bolt patterns.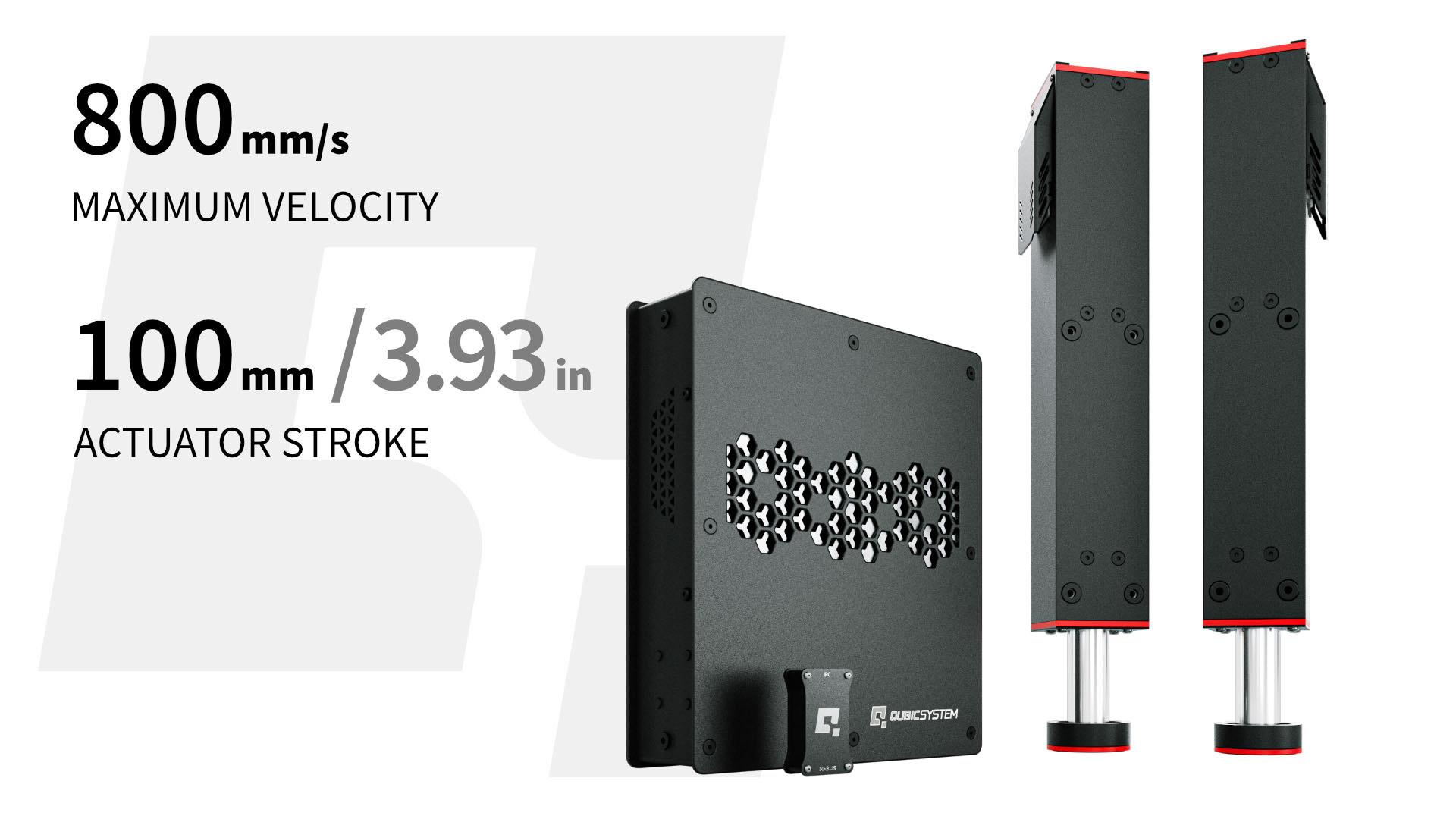 INTRO SET
2DOF CONFIGURATION
The QS-220 motion set consisting of two actuators with 100mm/3.93in stroke, power cabinet and motion controller (QS-MC6) is the perfect solution for all drivers who start their adventure with simracing and want to come into the virtual world of competition or need a 2DOF as a first motion platform. Undoubtedly, one of the greatest advantages of the Qubic System brand is the ability to seamlessly expand the motion system with additional actuators kit, quickly and easily creating extraordinary and original motion cockpits in a 3DOF configuration or even 6DOF with additional special designed accessories.
EXTENDED SET
3DOF CONFIGURATION

QS-220 Extended Set consisting of four actuators with 100mm/3,93in stroke, two power cabinets and one motion controller. The 3DOF configuration is dedicated to all racers who expect the most realistic and precise simulation. Incredible levels of vehicle feedback to the driver allows feeling exactly what the vehicle is doing in real time. During the competition, drivers can feel every possible detail noticeable in a real race (including motor vibrations, road surface, bumps, shunting effects etc.) Due to 3DOF set you can feel like at real racing session directly from your home.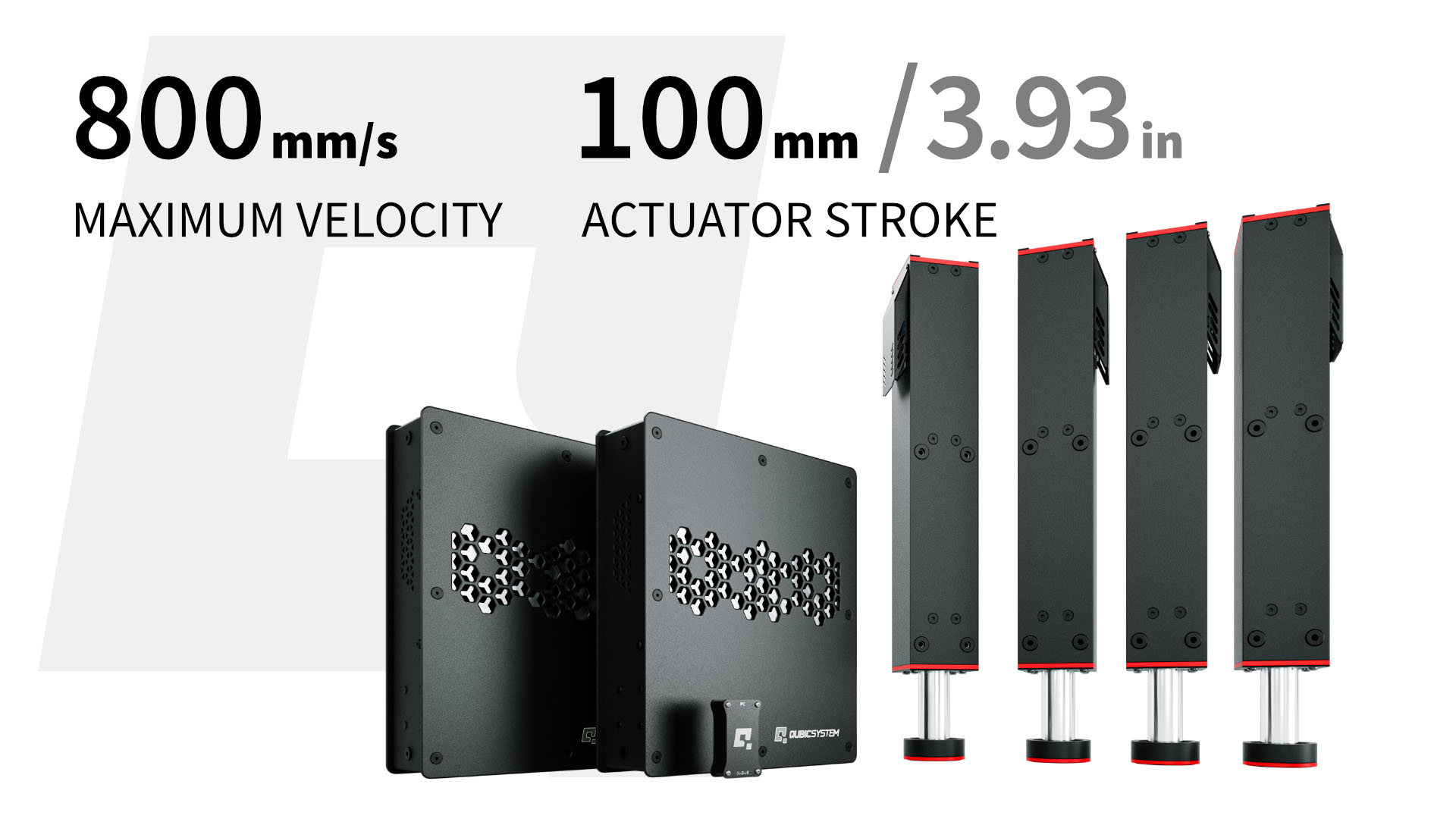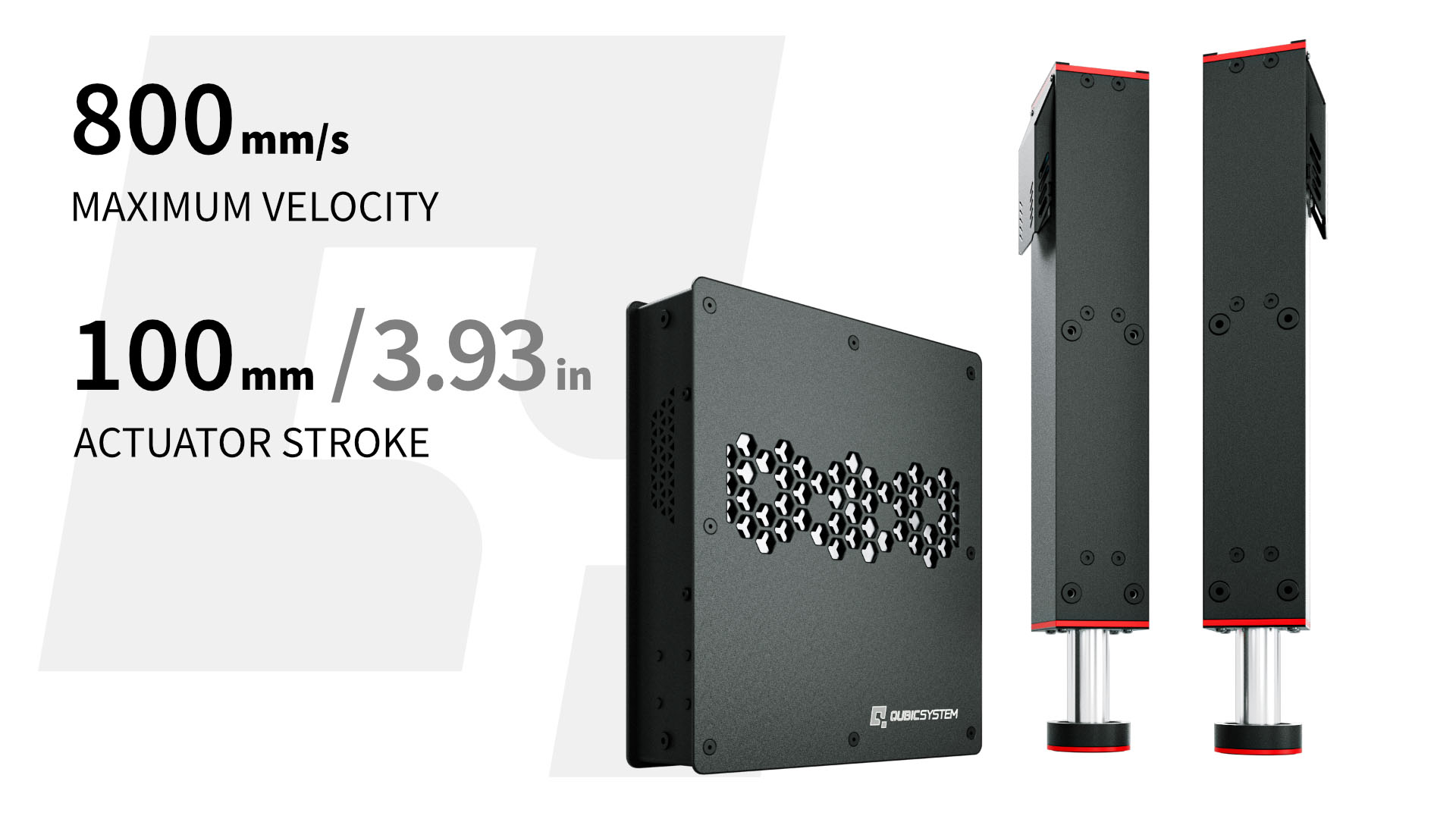 UPGRADE SET
UPGRADED FROM 2DOF-3DOF
QS-220 is designed with upgradability in mind – it is possible to expand your Intro set with another 2 actuators and the power cabinet later. For building your extraordinary motion rig you don't need an extra PC connector, just connect power cabinets directly to each other. Expand your motion form 2DOF to 3DOF configuration. Additional heave axis delivers oversteer and understeer sensation and gives you more realistic and precise driving experiences.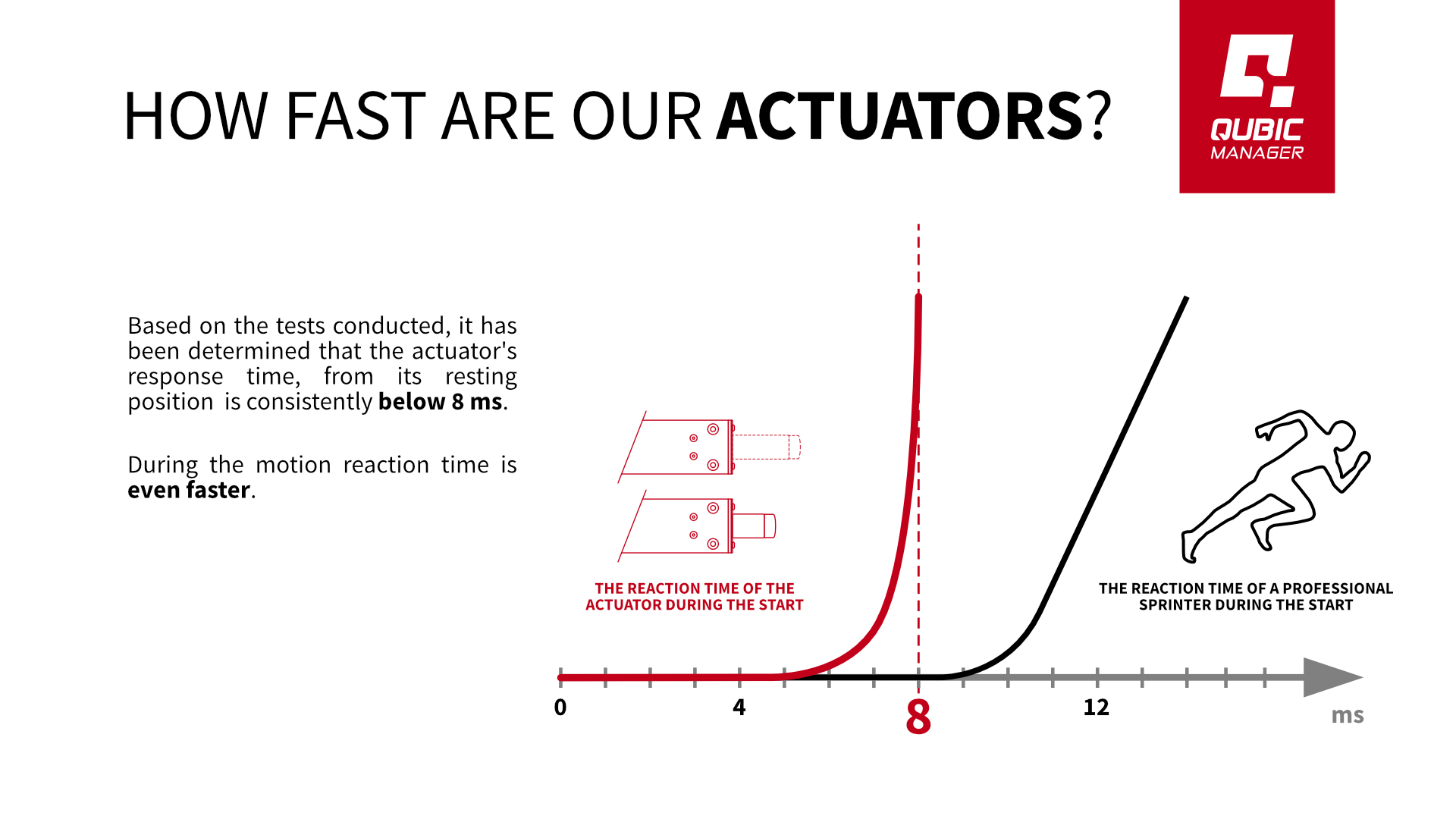 INTRO SET – 2DOF –  FRONT VARIANT
INTRO SET – 2DOF –  BACK VARIANT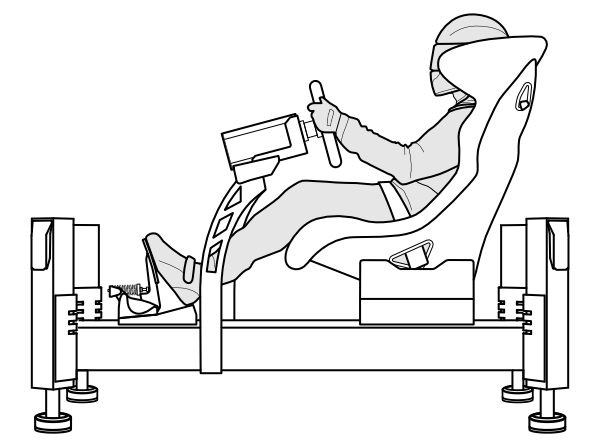 EXTENDED SET – 3DOF
SET HIGHLIGHTS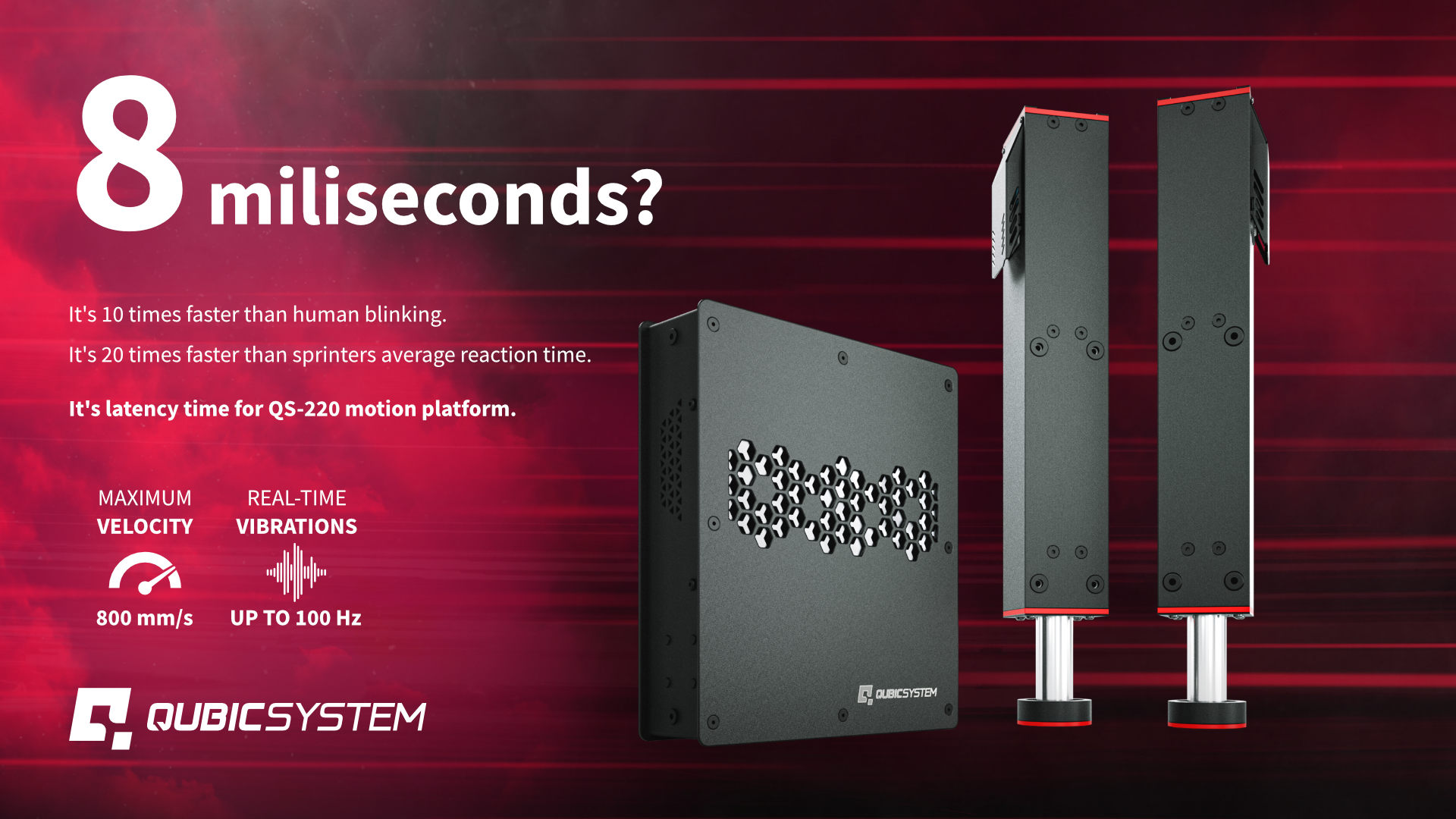 QS-220 SET HIGHLIGHTS
Maximum velocity: 800 mm/s
Maximum acceleration: 0.8 G
Actuator stroke: 100 mm | 3,93 in
Latency: <8 ms
Maximum control frequency: 1000 Hz
Vibration frequency range: 0-100 Hz
QS-220-PL SET KEY FEATURES
Proudly made in EU: Engineered, Designed and Manufactured in Poland
Super silent – extremely quiet operation
Used by professional race car drivers and pilots around the world
Top quality ecosystem for personal and commercial applications
Supported by dedicated software QubicManager: motion adjustment, motion post-processing, extensive diagnostic or easy and fast use of predefined profiles
VR HeadWay technology support (VR sickness compensation)
Over 80+ integrated and supported racing and flight games
Compatible with professional simulation applications – Motion SDK (FSMI or FSDI) for software developers
While every reasonable effort is made to ensure the accuracy of this information, we apologize for any errors or omissions contained on these pages.
Please verify any information with Simulation 1 Systems.
Additional information
| | |
| --- | --- |
| Weight | 65 kg |
| Dimensions | 70 × 60 × 50 cm |